HENGE 12A UBEC For 3-6S Lipo Battery RC ESC Speed Controler FPV Racing Drone Quadcopter
Regular price
$17.92
Sale price
$23.94
Unit price
per
HENGE 12A UBEC For 3-6S Lipo Battery RC ESC Speed Controler FPV Racing Drone Quadcopter
Production Information 
The 12-ampere Ubec is an external regulator that works with switching mode (switch mode). The UBEC can obtain the DC voltage suitable for the receiver and other equipment work from the input of 7-25.5, and provide a steady supply of up to 12A output current to the receiver, gyroscope and a number of steering gear and other equipment, so very suitable for large electric fixed-wing aircraft and the use of more than 4S lithium electric helicopters. With this device, you can get the power of the receiver directly from the power supply without having to be equipped with a separate receiver battery pack.
Product Specification  
Output: 5v/12a, 6v/12a, or 7.4v/12a (through the three-segment switch switch of the face)
Input voltage: 7-25.5v (2-6 series Lithium battery or 6-16 ni-mh/ni-CD battery pack)
Continuous output current: 12A
Peak Output Current: 20A (duration not exceeding 15 seconds)
Ripple: Less than 35mvp-p (@8a/12v)
Size: 58mm*38mm*18mm (long * wide * high); 1.7 Weight: 25g (including wire)
Features 
Using synchronous rectifier switching power supply control chip design, with over-current and overheat protection function, chip maximum efficiency of up to 93%, small size, light weight, output current is large, continuous output current capacity of 12A, peak output current capacity of 20A, fully guarantee the equipment demand for electricity; using high quality conversion chips, Greatly reduce the electromagnetic interference, to ensure that the receiver normal operation, with a wide range of voltage work, can be within the 7v-25.5v can be normal work; With working status indicator, 5.0V output yellow LED light, 6.0V output yellow, red led at the same time, 7.4V output red LED light.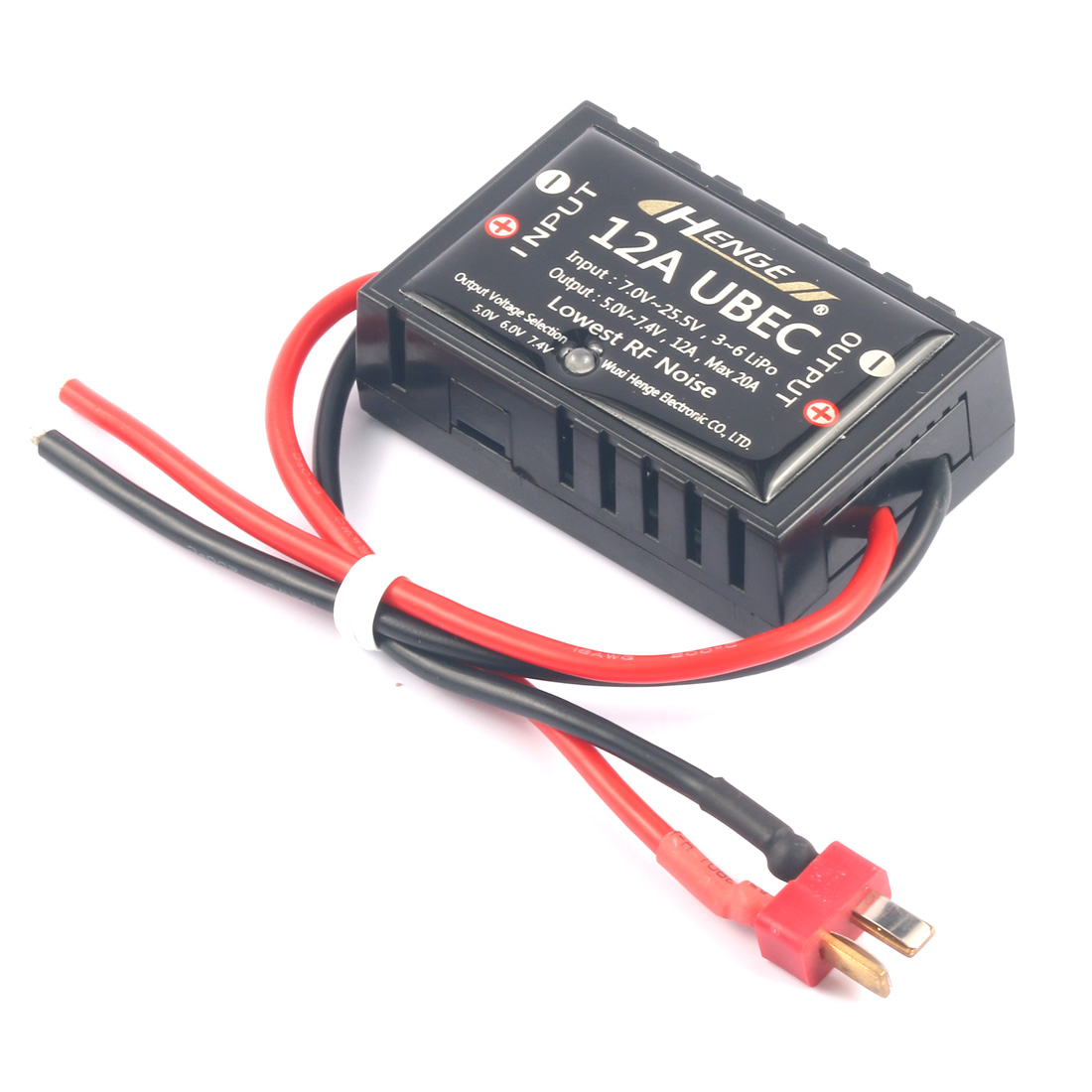 ---
Share this Product
---