Jumper SF410 SF610 SF810 2.4GHz SFHSS/FHSS Ultra light Mini Receiver for T8SG T14SG Radio Transmitter
Jumper SF410 SF610 SF810 2.4GHz SFHSS/FHSS Ultra light Mini Receiver for T8SG T14SG Radio Transmitter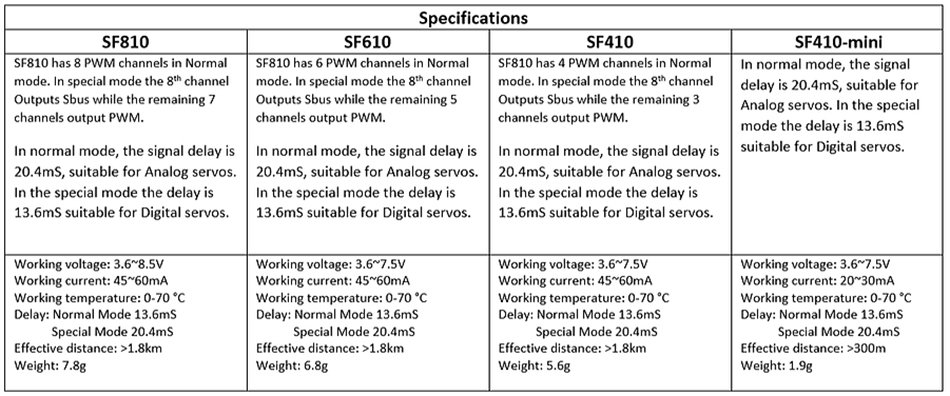 Bind/Pair procedure:
Turn on your transmitter, select S-fhss if it is necessary, press and hold the bind button on the receiver and power on the receiver, when the LED turns on solid green, the binding is finished, you can now connect servos to each channel and check for correct function from stick and switch movement on your radio. 
 
Fail-safe settings:
The SF series receivers have a fail-safe mode similar to original Futaba Receivers. Before attempting flight, we strongly recommend that fail safe modes are correctly setup on your receiver. For example, the throttle can be set to cut out in if the receiver enters fail safe mode to help avoid the model flying too far away. 

PWM output mode and Sbus output mode Setting  
PWM mode (normal mode) - All channels will output PWM. All SF series receivers are set to PWM as default. S.bus mode (Special mode) - The last channel of the receiver will output S.bus. All other channels will output PWM (excluding SF410 mini) 

Changing Modes  
Changing from Sbus to PWM is same as changing from PWM to Sbus:  turn off your transmitter, the LED is on red, hold and press the bind button for 6 to 0 seconds, release the button, then the red led will flash fast, press the bind button quickly once to confirm while the red led is still flashing. 
 
Checking Modes
Connect any standard servo to the last channel of your receiver and give stick or switch input on your radio. If the servo moves the receiver is in PWM mode (Normal Mode). If the servo does not move the receiver is in S.bus mode (Special Mode) 

Note: If you want to reset the receiver back to normal mode, you can re-pair the receiver and transmitter.  
 
LED status indicated under normal working status: 

---
We Also Recommend
---
QUESTIONS & ANSWERS
Have a Question?
Be the first to ask a question about this.
Ask a Question