---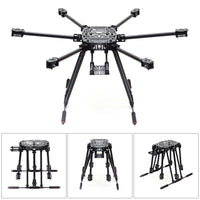 QWinOut ZD850 Full Carbon Fiber ZD 850 Frame Kit with Unflodable Landing Gear Foldable Arm for FPV DIY Aircraft Hexacopter
QWinOut
QWinOut ZD850 Full Carbon Fiber ZD 850 Frame Kit with Unflodable Landing Gear Foldable Arm for FPV DIY Aircraft Hexacopter
Not assembled, please notice that, and just the frame, no other spare parts included.
Product description:




Arm with upturned 5 ° force to play to the extreme, larger diameter 20mm carbon tube.





Aluminum Folding, Nylon Clamp (Tightened Clamp) 8 hole motor mount, compatible with more motors.





Motor Block Diagonal wheelbase of about 850mm, maximum support 16-inch paddle.





Center plate size 245mm * 180mm more space, the middle plate height of about 35mm.





Hook head with 10 * 330mm long carbon tube, can be free to stretch the length you want, with the porous bit PTZ board.





Tripod with a diameter of 16mm carbon tube, height 350mm, tripod crossbar 500mm, more stable grounding area.





Tripod with double-tube carbon fiber as support, bear the force of more than 50kg.
parameter:




20mm carbon tube arm




16mm + 10mm carbon tube tripod




3.0 mm botton center plate




1.5mm upper center plate




Aluminum alloy folding pieces




Nylon mixed carbon pipe clamp




Plastic tripod connection (force 50kg)




The net weight of frame kit  is about 1210g





Recommended items(not included):




3508-380kv motor


6s 22.2v 25c

 

Lithium battery
1555/1547 15 inch cw ccw props